A Hearty Welcome to our Newest Post-Doc Anirudh Sharma
23/07/19
A hearty welcome to Post-Doc Anirudh Sharma to OMEGALAB lab group. Anirudh studied Nanotechnology Flinders University in South Australia and has conducted his postdoc research at University of South Australia and University of Bordeaux before joining the KAUST Solar Center and OMEGA family. Within the OMEGALAB he will be focusing mainly on organic photovoltaic solar cells.
New Faces Join the OMEGALAB Group!
22/07/19
OMEGALAB is delighted to host Material Science and Engineering student Emily Alexandre from Federal University of Rio Grande do Norte, Brazil for a 6-month internship in our lab group. She will be working on Inkjet Printing with PhD student Daniel Corzo, completing her undergraduate degree.
Welcome, Visiting Student Angel Sousa from Brazil!
23/06/19
A warm welcome to VSRP student Angel Sousa who joined us in Saudi Arabia, all the way from Brazil. She completed her undergraduate degree in Material Science from Universidade Federal do Rio Grande do Norte - UFRN and now will be with us for the next 6 months. with our Thermoelectrics team completing her master's thesis project.
e-MRS Spring Meeting 2019
27-31/05/19
Many members of the OMEGALAB attend the e-MRS 2019 Spring Meeting in Nice, France and present their current work during the talks and poster sessions.
Invited Guest Speaker at ICoPP 2019
22-25/05/19
Professor Derya Baran attends the "International Conference on Photocatalysis and Photoenergy (ICoPP 2019)" in Incheon, Korea as an invited speaker. She will discuss photocurrent conversion in nonfullerene solar cells.
New Master's Student, Fahad Bokhari
21/05/19
New Masters Student Fahad Bokhari joins the OMEGA Lab! Fahad studied Material Science and Engineering at Purdue University & graduated in May of 2018 as a KGSP student. Recently, Fahad joined our group. His research focus will focus on on 3D printing of organic electronics.
Undergraduate student Waleed Koubeisi from local University KAU joins us for his Summer internship
08/05/19
Welcome to the OMEGA Group Waleed Koubeisi! Waleed is an undergrad student in his last year at KAU University, who will be with us for the next 4 months, working on DC-DC converters for applications in solar energy harvesting.
Indian Cuisine Night in Jeddah
1/05/19
We had a lovely lab group dinner group in Jeddah, SaudiArabia to welcome new visiting interns and celebrate the recent papers in our group. We opted for some Indian cuisine at Asha's Middle East restaurant and it was a hit! Great food and great company!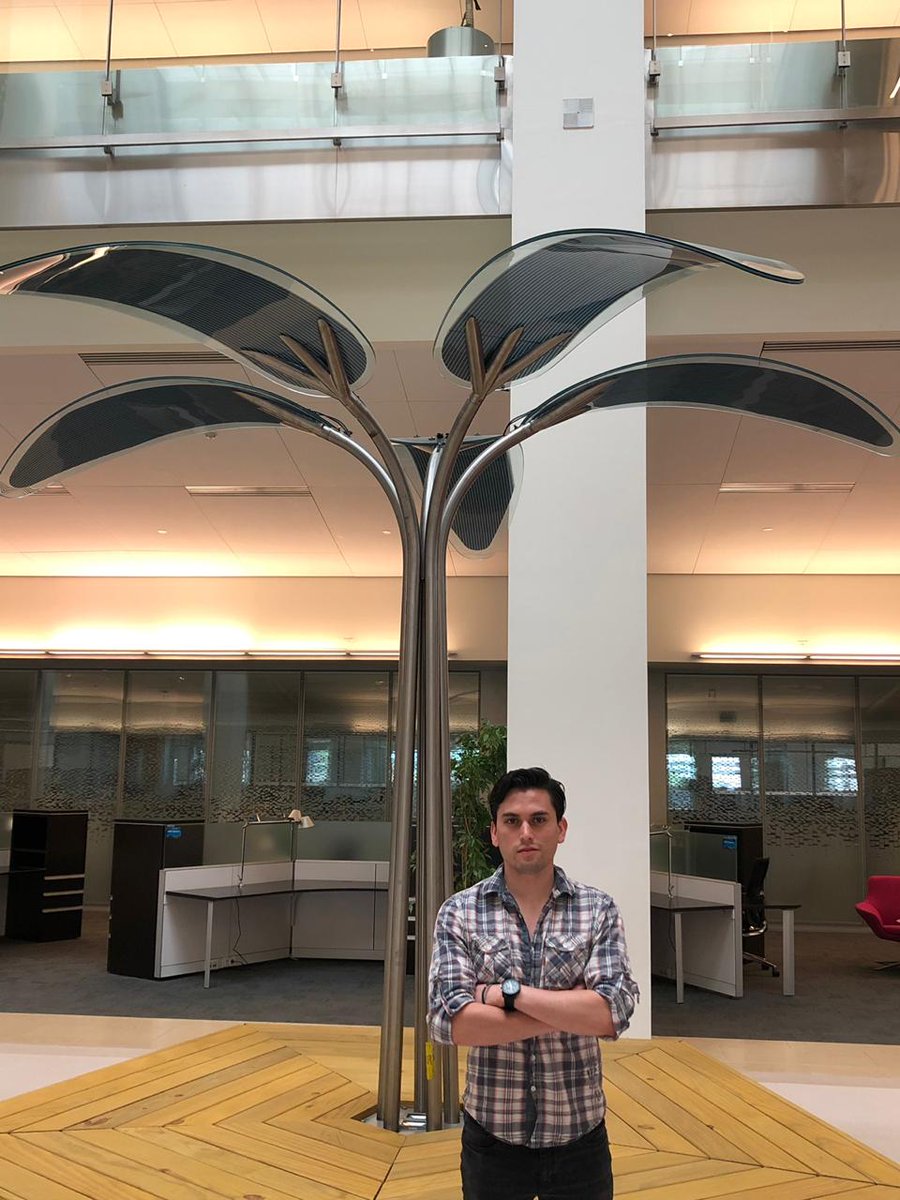 Luis Torres Joins OMEGA Group for his internship
1/05/19
Welcome to Luis Torres, our second visiting intern this month! He completed his undergrad in Unam University in Mexico and previously, worked University of Erlangen-Nurembergand ZAEBayern on solar cells in Germany. Within our group, he will focus on interface engineering of organic/perovskite tandem.
15/04/19
Congratulations to Post Doc Seyoung Kee for his recent paper on PEDOT/ionic liquid based thermoelectrics, titled "Highly Stretchable and Air-Stable PEDOT:PSS/Ionic Liquid Composites for Efficient Organic Thermoelectrics".
9/04/19
A warm welcome to Mohamad Abdelkhalik from KIT Karlsruhe LTI to the OMEGA Group and KAUST Solar Center. Mohamad will be with us for the next 6 months and during his internship in our group he will mainly focus on modeling and fabrication of electrodes for transparent solar cell applications.
Congrats Daniel on your fist paper!
3/04/19
Congrats to Daniel Corzo on his first-author paper titled "Digital Inkjet Printing of High-Efficiency Large-Area Nonfullerene Organic Solar Cells", & the whole team involved, great work! We're loving the local reference of a marine turtle shaped solar cell to show free-form printing capabilities.
Congrats on the Nature Review Paper!
7/03/19
A well-deserved cake celebration for OMEGALAB Post-Doctoral Fellow Nicola Gasparini for his latest Review in Nature Review Materials, examining the role of the third component in ternary organic solar cells. Well done to all involved (Derya Baran, Iain McCulloch and Alberto Salleo). https://www.nature.com/articles/s41578-019-0093-4
18/02/19
Many congratulations to our previous SRSI Student Masarah Ahmedhussain, who has recently won many awards at the Ibdaa competition! Kingdom's largest pre-college science & engineering competition that empowers the next generation of scientists, engineers, and entrepreneurs. won a big award and two special awards. She won 4th place in Saudi Arabia, a special national award from ExxonMobil, and a special international award from Yale University!
'Innovators Under 35 for the MENA region'
12/02/19
PhD students, Sri Paleti, Xin Song and Khulud Almasabi present their research projects at the 2019 KAUST Solar Conference poster session.
Our 2nd Annual OMEGALab Academic Retreat!
30-31/01/19
We held our 2nd Annual Academic Retreat recently filled with amazing talks, thoughtful discussions and team building exercises. A wonderful event and opportunity to reflect on our personal/ group goals, accomplishments & evaluation. Thanks to our PI DeryaBaranB for organizing the event for us! Great way to start off the year!
A Lovely Dinner at the Leila Restaurant in Jeddah
13/12/18
The Omega Lab Team Members enjoyed a lovely evening at Leila Restaurant in Jeddah last week reminiscing over the past year and accomplishments. Great way to end the year, with great food and great company!
Escape Room Fun in Jeddah!
13/12/18
Our group enjoyed a nice trip to the Jeddah Escape Hotel Room, which challenges the group's solving and team working skills. Both groups managed to successfully escape the room by solving the riddles and clues to exit the room. It was a fun and enjoyable evening out with the group.
Iyris Team Featured in the KAUST Official News Page
14/11/18
"Turning windows into solar panels"
https://www.kaust.edu.sa/en/news/turning-windows-into-solar-panels
PI Derya Baran featured in the Arab News
4/11/18
OMEGA Lab PI and co-founder of Iyris, Derya Baran's performance for Iyris featured in Arab News!
http://www.arabnews.com/node/1398861/corporate-news
Iyris Team Among the Top 500 deeptech startups
30/10/18
Iyris Solar have been selected as one of Hello Tomorrow Top 500 deeptech startups from over 4,500 applications worldwide. Well Done!
Iyris Wins 3rd Place in the Istanbul Startup 2018
26/10/18
Recently Derya Baran from the Iyris team participated in the Istanbul Statup 2018 competition and they finished third overall! Great Work!
OMEGA Lab's Research Featured in the KAUST Discovery
15/10/18
OMEGA Lab was featured in last month's KAUST Discovery Research Highlights. For more details visit https://discovery.kaust.edu.sa/en/article/698/basking-in-a-quantum-efficiency-glow
Professor Derya Baran Awarded Innovators Ander 35 Award
1/10/18
OMEGA Lab PI Derya Baran was recently recognized as one of the top Innovators under 35 by MIT Technology Review at EmTechMENA in Dubai.
30/9/18
Welcome Stefan Schlisske! Our new visiting student who joined us from KIT Karlsruhe, Germany. His research interests include organic electronics and improving the printing of functional materials by controlling the physical and chemical surface properties of substrates.
Iyris Team Wins TAQADAM Finals
13/9/18
Born out of the Omega Lab, the Iyris company is a startup comprising of Professor Derya Baran, Nicola Gasparini, Joel Troughton and Daniel Bryant. The Iyris company aim to generate electricity from windows using new transparent photovoltaic technologies.
Recently, the Iyris Team won the TAQADAM finals held at KAUST!
2nd Annual International Dinner Party
9/9/18
Our Growing OMEGA lab Family! This weekend we had our 2nd annual international/multicultural Omegalab dinner and bbq hosted by our PI Derya Baran . Overall a lovely evening with great food and great people.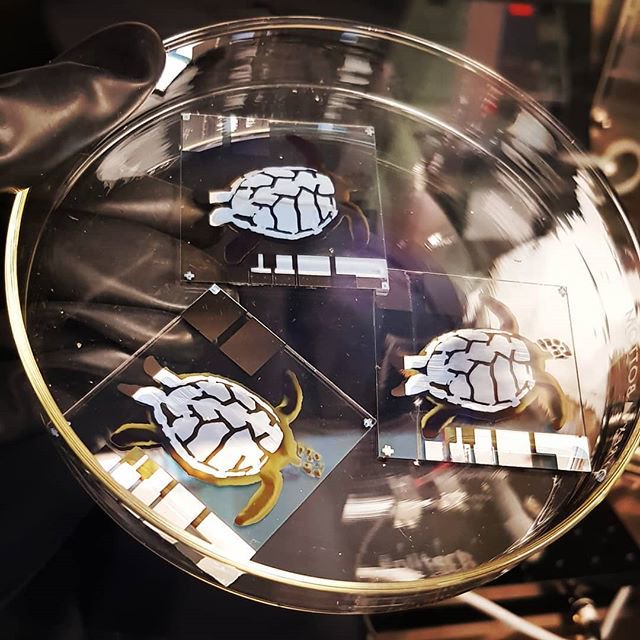 13/8/18
How cute are these! Did you know that a group of turtles is called a bale? Well this is a bale of inkjet printed solar cells fabricated by PhD student Daniel Corzo.
Goodbye to SRSI Student Masarah Ahmedhussain!
5/8/18
Masarah Ahmedhussain was a SRSI student who joined our group during the summer for her internship. During her short time here she worked with mentor Xin Song, and by the end of her internship Masarah managed to make >10% efficiency solar cell devices! Well done and all the best in the future!
15/7/18
OMEGA Lab enjoyed a lovely dinner and evening at a nearby city called KAEC.
Nicola Gasparini gives an invited talk of Ternary Solar Cells
7/7/18
Master of ternary solar cells, Post Doc Nicola Gasaparini, recently gave his first invited talk at ISOEMD with great scientists from Korea, Sweden, China, Ethiopia and KAUST in South Korea.
Dr.Derya Baran Gives a Talk at the Women in STEM event
27/3/18
"Women should take their emotional intelligence skills, which are there by nature, to their advantage. This is an important part of leadership," - Dr. Derya Baran during her presentation for Women in Stem gathering.
12/5/17
Diego obtained his B.Sc. in Nanotechnology and Molecular Engineering at Universidad de las Americas Puebla in Mexico. His previous work includes the design of biomolecular devices for the iGEM 2014 and BIOMOD 2015 competitions, mainly synthesizing materials to be used as scaffolds or structural support. He also worked as an intern at University of Notre Dame producing photoactive nanostructured films for wastewater treatment where he become more interested in sustainable technologies.
All the best and glad to have you join the team.
Who says art cannot produce energy? Or that solar cells cannot be beautiful?
26/2/18
Beautiful inkjet printed solar cell by PhD student Daniel Corzo.
Daniel Corzo presents his work at the Bioelectronics Conference in Austria
16/3/18
PhD student Daniel Corzo presents his work on inkjet printed solar cells applied to bioelectronics at the Biolectronics Conference in Austria.
Derya Baran Gives an Invited Talk at DPG conference
21/2/18
OMEGA Lab team member visit neighboring town Thuwal, with guest visitor Dr.Han Woo Young, for a nice traditional evening dinner!
Nicola Gasparini's Feature in the KSC newsletter
Paper by PI Derya Baran Ranked #2 for the Most Read Article of the Month
1/17/18
Well Done! The "Review-Organic Materials for Thermoelectric Energy Generation" published in the ECS Journal of Solid State Science and technology by Omega PI Derya Baran in collaboration with Queen Mary University of London and Swansea University was ranked #2 for the most read article last month.
Symposium on Recent Advances on Organic/Hybrid Electronics in Istanbul
2/2/18
Many OMEGA Lab members presents their latest research at the Symposium on Recent Advances on Organic/Hybrid Electronics.
14/5/18
Recent Sci-cafe at KAUST featuring PI Derya Baran on the "City of the Future".
4/2/18
OMEGA team members explore and enjoy some food before attending the Symposium on Recent Advances on Organic/Hybrid Electronics. Team outings are a great way to facilitate bonding among group members!
Prof Derya Baran as an invited guest speaker at GRC
1/18/18
Prof Derya Baran is invited to provide a talk on Charge Separation in Organic Photovoltaic Devices, at the 2018 Gordon Research Conference: Electronic Processes in Organic Materials.
https://www.grc.org/electronic-processes-in-organic-materials-conference/2018/%E2%80%8B
19/7/18
Sky MacPhee, a Master student from University of Strathclyde spent a year with us, and following a recent visit by their supervisor Sarah Walker, Sky along with her three other peers are now returning home to complete their degrees. Wish them every success in the future and hope to welcome them again to KAUST.
PI Derya Baran visits the National Korean Photovoltaic Annual Conference
11/8/17
PI Derya Baran visits the National Korean Photovoltaic Society Annual Conference. She then visited Gwangju Institute of Science and Technology (GIST), along with researcher from Imperial College, London.
KSC Seminar by Dr.Gerardo Hernadez Sosa
21/11/17
We would like to thank Dr.Gerardo Sosa from Karlsruhe Institute of Technology, for providing a seminar on "Printed Organic Optoelectronic Devices: Processability, Performance and Sustainability".
Dr.Bob Schroeder KSC Seminar
11/4/17
It was a pleasure to host Prof.Schroeder from Queen Mary University of London who provided an informative KSC seminar titled "Science fiction or organic semiconductor design"?
Visiting Student Rebecca Rowden Joins the OMEGA Lab
19/8/17
Becca is a Materials Science & Engineering student from Imperial College London, who grew up in Hong Kong, the UK and Dubai. Her summer internship project is focused on using an ellipsometer to better understand the optical properties of thin films used in devices. In her spare time, she enjoys swimming and photography, and has a new-found hobby of rock climbing with friends at KAUST!
PhD student Danial Corzo wins 3rd place at the STEAM Innovation Challenge
23/10/17
Congratulation to PhD Student Danial Corzo for winning 3rd place at the STEAM Innovation Challenge, an intensive three-day weekend ideation event held at KAUST.
A warm welcome to our Filip Anies
8/7/17
A warm welcome to Masters student Filip Anies from Imperial College of London.
Filip Anies is a summer internship student in our lab who was born and raised in Sweden. He moved to U.K three years ago to study Chemistry at Imperial College of London. In his time with our group, he aims to reach a better understanding of the degradation processes of non-fullerene acceptors for bulk heterojunction solar cells. Besides Chemistry he's passionate about fencing, and he hopes to try many new sports during his stay at KAUST
Dr. Derya Baran nominated to partake in the 67th Lindau Nobel Laureate Meeting
26/7/17
OMEGA Lab group's PI, Professor Dr.Derya Baran, was nominated by the Helmholtz Association, Germany, to attend the 67th Lindau Laureate Meeting (Chemistry). This annual event enables the next generation of leading scientists to meet with approx. 30 Nobel Laureates and fosters exchange amongst scientists of different generations, cultures, background and disciplines. The topic of the meeting rotates anually between physiology and medicine, physics and chemistry.
OMEGALab is now on Twitter!
5/1/17
OMEGALab has offically just joined twitter! Please follow us @KAUST_OMEGALab to receive regular news updates about our lab group and research.
We will also post news and articles related to our field of study and also some other fun tidbits.
OMEGA Lab Welcomes PhD Student Xin Song
3/16/17

The OMEGA Lab is excited to welcome Xin Song as our first PhD student! Xin studied chemistry at the College of Chemical Engineering and Chemistry, Nanjing Tech University, where he was awarded his B.Sc. in 2013. He then went on to complete his Masters at Institute of Advanced Materials (IAM), Nanjing Tech Univeristy in 2016, with a specialty in Organic Functional Materials and Devices. In recognition of his academic achievements during his Masters, Xin was awarded the National Prize for Outstanding Graduating Dissertation and Excellent Work.
1/31/17
We are the OMEGA Group, a newly formed lab group located in Saudia Arabia at King Abdullah University of Science and Technology. OMEGA stands for Organic Materials for Eneregy Applications.